Starting on May 14th, E.C. Manning Provincial Park will reopen for day use activities. This means that day use facilities and trails will be open, including Lightning Lake Day Use Area and all road pull-outs within the park. 
No backcountry camping is permitted at this time. All campgrounds will remain closed until June 1st, when they will be reopening (weather permitting). For more information on BC Parks camping reservations, please visit: http://bcparks.ca/covid-19/ 
Manning Park Resort will be opening for the May Long Weekend with limited operations in the following departments:
Country Store: Open 10am-4pm Thursday-Monday for basic necessities and grab-and-go sandwiches and snacks. Along with increased sanitation measures, we will also have a greeter at the entrance of the Pinewoods building to help limit the number of people in the building .
The Boathouse: Open for 10am-4pm on Friday-Monday for canoe, kayak, stand-up paddleboard and rowboat rentals.
Washrooms: will be available outside the Pinewoods building at the Resort, as well as pit toilets at the day use areas. These will be open 7 days/week starting May 14th.
The Lodge and all accommodations in the park will remain closed at this time. These buildings will be closed and access to them is not permitted.
We are happy to open these operations, and will be taking precautionary measures to ensure the safety of our staff and our guests. A greeter will be stationed outside the entrance of the Pinewoods to assist in limiting the number of people in the building, and encourage social distancing. Increased measures of sanitation will be taken, by trying to limit contact whenever possible and to ensure any high touch areas are regularly disinfected.
Guests are asked to comply with all social distancing measures, and follow provincial and federal guidelines regarding COVID-19. If you are sick or have been in contact with anyone who may be sick, we ask that you stay home. Please help us keep Manning Park a safe place to visit!
After this weekend. we are expecting to open with these operations from Friday-Sunday throughout the month of May. For any updates, please see our Hours of Operation page.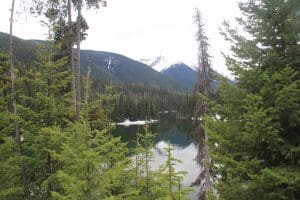 Please note that although the front-country trails and day use will be open, there is still a significant amount of snow present, particularly on higher elevation trails. Some trails may require snowshoes. In the event that you encounter snow on the trail, please do not walk off the trail, as this furthers trail braiding and can further degrade the trails in the park.
The road to the Cascade Lookout and Blackwall Peak will remain closed due to snow.
While the Cascade Lookout may open when snow levels decrease, please note that the sub-alpine meadows road will not be accessible until July 1st at the earliest, as per BC Parks new regulations. This is in effect for wildlife and to mitigate trail erosion concerns.
We regret that park interpretive programs will not start this spring as planned, but will be reassessed for July.
The bears are awake in the park, so please remember to be Bear Aware!
Thank you and have a safe and happy May Long Weekend!