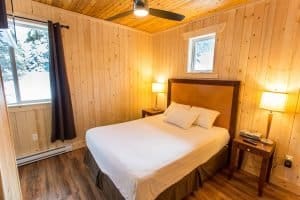 We are excited to announce that with the recent opening of the campgrounds, Manning Park Resort will also be opening resort accommodations starting June 4th. 
Select cabins and lodge rooms will be available for reservations through our website and by phone. Existing reservations will also be honoured, as we are able. If you have a booking for the Last Resort, we ask that you contact us directly to discuss your reservation.
To comply with stringent sanitation processes in our housekeeping, we will be altering some availability, which may result in some accommodation types not available for specific nights. We will endeavour to provide as much availability as we are able. 
For any questions about reservations or to make a reservation, visit our booking website or call 1-604-668-5922 to leave a message. The Front Desk will be checking messages, and will open 24 hours a day starting June 4th at 12pm. 
The Boathouse will open daily from 10am-4pm starting May 29th for canoe, kayak, stand-up paddleboard and rowboat rentals. 
Starting June 5th, the Pinewoods Dining Room will also open for dine-in orders as well as take-out. The Country Store is now open 7 days a week.
The Visitor Centre will open Friday-Sundays starting June 5th. 
The Bear's Den Pub, Bistro, Games Room and the Loon Lagoon Pool Facility will remain closed at this time.
Please see our current Hours of Operation for all hours.
COVID-19 Precautions
We take our responsibility very seriously to provide a safe environment for you and your family to visit Manning Park, and are taking extra precautions to prevent COVID-19 transmission in every area of our business.
For the Pinewoods Dining Room, guests will be spaced throughout the dining room to allow for appropriate social distancing from other tables. We ask that you only dine with your family group, and groups will be limited to these sizes. Our Pinewoods capacity will be decreased due to these measures, however, we hope to expand our dining areas to include the Cascade Room or Alpine Room for ample space as necessary.
For any contact with guests, we have installed plexiglass barriers or provided appropriate personal protective equipment for our staff. Regular sanitation measures of any touch areas will be in place.
While we will accept all our regular forms of payment, we would encourage as much as possible the use of debit or credit cards to limit the handling of cash. Camping fees will still be payable by cash, with increased precautionary measures.
As always, if you are sick, please refrain from visiting Manning Park and help us keep it a safe place to visit.
We look forward to welcoming you back to Manning Park Resort, and we are confident with our increased measures to keep our staff and guests safe. If you have any questions, or would like more clarification regarding our increased procedures in regards to COVID-19, please don't hesitate to get in touch.
Campground Information
Coldspring and Mule Deer campgrounds will open June 1st for overnight camping.
Lightning Lake campground will remain closed due to snow for now, but will open as soon as possible (Reservations are not open until an opening date can be set; updates will be posted on this website: http://bcparks.ca/explore/parkpgs/ecmanning/).
Hampton is currently closed for the foreseeable future. This is due to a large amount of hazard trees that need to be removed first. Our parks team is working with BC Parks for a solution, but we don't have a date yet for this.
All campground reservations must go through Discover Camping. 
Regrettably, it is our understanding the group campsites of Lone Duck will not be permitted to open this summer. If you have a group reservation, please contact Discover Camping or call 1-800-689-9025 to discuss your refund options.
There is increased signage in the park to remind you to practice safe social distancing from other groups. Please adhere to all provincial and federal guidelines.
We can't wait to welcome you back to Manning Park Resort! We encourage you to come explore Manning Park, where there are hundreds of kilometres of trails open that provide excellent ways to stay naturally socially distanced!
Book Manning Park Resort accommodation now